Travel agency of the Congress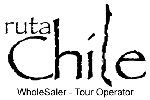 If you need further assistance or information, do not hesitate in contact us to ICPP-tourism@rutaschile.com

SANTIAGO, THE CAPITAL OF CHILE



Santiago de Chile, the country's capital, was founded in 1541 by Pedro de Valdivia. It is located in the Mapocho Valley at the foot of the Andes Mountains. Santiago is a modern and safe metropolis. It is known for its sustained development and its economic, political, and social stability.

These conditions have been fundamental for attracting international investors and have allowed the city to become the Latin American host of important congresses and varied international events.

It is very accessible both nationally and internationally and has a high population density.

Santiago has a temperate to mild Mediterranean climate, with a long dry season and winter precipitations from May to September. Average temperatures in July range from a minimum of 4.5 to a maximum of 14.7 degrees Celsius.

Santiago currently has more than six million inhabitants. As a capital city, it receives most of the international tourists who visit Chile. Because of this, it offers a great variety of activities for both tourists and members of the international business community. Its main attractions are its cultural events, and its nearby natural areas and winter sports centers.

Chile's history is reflected in the capital's significant historical, architectural, and cultural heritage. It has world-class museums, old churches, plazas, artisans' markets, and picturesque restaurants featuring both typical Chilean cuisine and international menus.

In recent years, the city has developed an excellent hotel and gastronomic infrastructure, and has a wide range of cultural activities that satisfy the most varied tastes.



Suggested excursions in the city:



- Cerro Santa Lucía (hill in the city's center)
- Cerro San Cristóbal (hill in the outskirts of Santiago, with an excellent view of the city)
- Parque Forestal – Museo de Bellas Artes (riverside park and the National Fine Arts Museum)
- Pueblito de Los Dominicos (high-end artisans' market)



Suggested excursions outside the city:



- Cajón del Maipo (Maipo River Canyon)
www.sernatur.cl/scripts/nacional/destino.php?n=14
- Farellones, La Parva, El Colorado, and Valle Nevado ski centers
www.sernatur.cl/scripts/nacional/destino.php?n=13
- Pomaire (artisans' town famous for its clay pottery)
- Valleys and Wine Routes
www.sernatur.cl/images/lang1/internacional/micrositios/vino/
index.html
http://www.sernatur.cl/internacional/?lang=1



CHILE, WINE COUNTRY



Chilean vineyards – distributed mainly within the central zone of the country – have gained world-reputation and prestige thanks to its varieties and quality of their wines that, according to its Terroir (sense of place), are recognized as one of the best of the world.

Amongst the main varieties it is possible to find Cabernet Sauvignon, great Blends and the emblematical known as Carmenérè.

These wines are produced in about 140 vineyards which are distributed in 14 grape-growing valleys. The privileged climate and soil in these valleys allow that many different vineyards of different sizes produce world-class wines for export.

In order to show the Chilean wine quality to the Conference participants, Es posible que tu navegador no permita visualizar esta imagen. BBVinos stands as sponsorship of the ICPP-LAWPP 2010.

BBVINOS.com is a well-known and reliable Internet sales service of wines, piscos and Chilean gourmet products, which are packed and delivered directly to your hotel during the Conference, or you can order directly afterwards to www.bbvinos.com, being shipped to your country of origin.



CHILE, LAND OF CONTRASTS





"Chile"



There are many theories about the origin of the word Chile. One theory says that it derives from the Mapuche word trih or chi, the Mapuche name for a bird that lived in the region.

Another theory says that Chile was the name of a cacique who governed the Aconcagua Valley before it was occupied by the Incan Empire.



Geography and borders



Chile is located in the far southwest of the South American continent, and it exerts sovereignty in three continents: South America, Antarctica, and Oceania. It borders Peru to the north, Bolivia and Argentina to the east, the Pacific Ocean to the west and the South Pole to the south.

Its territory is a long, thin strip of land between the Pacific Ocean and the Andes Mountains, and has a wide variety of vegetation and climates. In the north, desert predominates – one of the most arid in the world – and the south is noted for its temperate and cold pine and deciduous forests. Chile's central regions have a temperate climate, which favors agriculture and wine grape plantations, which produce an array of fine wines that have been praised all over the world.



Area



There is more than 4,000 km distance from the very north to the very south of Chile. The country's average width is 177 km., and its narrowest point, north of the Choapa River, is only 90 km. across.

Chile's continental and insular land area is 756,626 kilometers squared, and its Antarctic territory is 1,250,000 kilometers squared.



Population



In the most recent national census, in 2002, Chile's population was calculated at 15,589,147 inhabitants with an average age of 30.04. Forty-nine percent of the population are men and 51% are women.

Close to 75% of the population occupies only 20% of the national territory, mainly in the central regions, where capital city Santiago is located. Santiago itself is home to close to one-third of the population. More than 85% of Chileans live in cities, the largest being Santiago, Concepción, Valparaíso/Viña del Mar, Antofagasta, Temuco, and Puerto Montt.

Most Chileans have Spanish ancestry, but many also have Irish, English, German, French, Italian, Croatian, and Palestinian ancestry.

The indigenous population groups are concentrated in the north, where approximately 20,000 Aymarás and Atacameños live, and in the south, with more than 900.000 Mapuches. In addition, close to 2,500 Rapa Nui, who have Polynesian ancestors, live on Easter Island.



Language



Chile's official language is Castilian (Spanish). In some parts of the country, indigenous languages like Mapudungún (Mapuche), Quechua and Rapa Nui are still spoken.



Religion



There is complete freedom of worship in Chile. While the Roman Catholic Apostolic religion is professed by 77% of the population, other religions also have a presence, including Protestantism, Judaism, Islam, the Greek Orthodox and Russian Orthodox churches, and others.



Constitution



Chile is a democratic republic governed by a national constitution, whose system of government is based on the separation of executive, legislative, and judicial powers. The head of the Executive Branch is the President of the Republic, elected every four years by direct vote. The Legislative Branch is represented by the National Congress, located in Valparaíso, and is comprised of the Senate Chamber with 48 members, and the Deputies Chamber with 120 representatives from 13 regions. In 2007, the number of regions in the country increased to 15, but the two new regions do not yet have their own representatives. The Judicial Branch includes the Supreme Court and all of Chile's lower courts.



Economy



Chile is recognized all over the world as having one of the continent's most solid economies, and in recent years it has experienced significant economic growth. Its economic system is open to the world, and is based on growing exports and fomenting free trade agreements with the world's major economies like the USA, Japan, the European Union, and China. Chile also participates in several economic fora, including APEC, and is an associate member of MERCOSUR and the Andean Community.